Creation Proclaims 4: Amazon and Beyond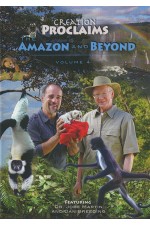 Product Code:
CPDVD4
Reward Points:
0
Availability:
In Stock
Price: $14.00

Join Dr. Jobe Martin and Dan "The Animal Man" on an adventure deep inside the Amazon rainforest and beyond. It is here that God reveals Himself maybe more than anywhere else on Earth because of the enormous diversity of plants and wildlife. In The Amazon and Beyond (Volume 4), you'll discover how creation proclaims the character, majesty, power and glory of our Creator God. In each featured creature, you'll learn how God is reaching out to mankind in unmistakable ways by making Himself known through:
Macaw – The Parrot King
Kinkajou – Amazon's Sweet Honey Bear
Marmoset – God's Miniature Monkey
Symbiosis and Mutualism: Mighty Brazil Nut Tree to Industrious Leafcutter Ant
Anaconda – Amazon's Mystery Monster
Spider Monkey – The High-Flying Acrobat
Lemur – Madagascar's Friendly Phantom
Bullhorn acacia Tree and Ants
Bush Baby – The Little Night Monkey
Toucan – Rainbow of the Jungle
Slow Loris – The Poisonous Primate
Three-Banded Armadillo – The Tiny Four-legged Tank
Millipedes (extra feature)
Capuchin Monkey (extra feature)
Write a review
Your Name:
Your Review:
Note: HTML is not translated!
Rating:
Bad
Good
Enter the code in the box below: