Creation Proclaims 3 DVD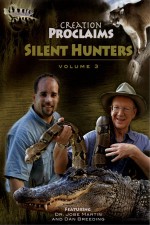 Product Code:
CPDVD3
Reward Points:
0
Availability:
In Stock
Price: $14.00

Join Dr. Jobe Martin and Dan "The Animal Man" on a wild animal adventure. You'll come face-to-face with some of the world's most fascinating creatures--they are ferocious, mysterious, and at times hilarious. In Silent Hunters, you'll discover how Creation Proclaims the character, majesty, power, and glory of our Creator God.
In each creature feature, you'll learn how God is reaching out to mankind by making Himself known in unmistakable ways through: Aligators, Archerfish, Boa Contrictors & Pythons, Mountain Lions and Rattlesnakes
Extra Features: Silient Christians by Mike Riddle, Molecular Biology in Creation by Harvard grad Nathaniel Jeanson Ph.D. of ICR, and Apologetics for Creation by Dr. Jobe Martin and Dan Breeding.
So, grab your camera, pull on your hat and boots, and get ready to encounter God through the wild wonders of His creation. You'll be inspired by the Biblical Insights and invigorated by the adventure!
Write a review
Your Name:
Your Review:
Note: HTML is not translated!
Rating:
Bad
Good
Enter the code in the box below: