Marvels of the Mouth: A Dentist Looks at Design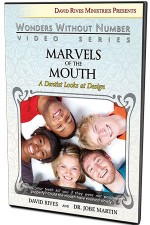 Product Code:
MARVMOUTH
Reward Points:
0
Availability:
In Stock
Price: $10.00

Remember all those scary trips to the dentist? Ever wanted to find a way to think about something else while you are there or engage your dentist with something about our Creator the Lord Jesus? Join David Rives and Dr. Jobe Martin as this DVD gives you just a brief summary of some of the marvelous engineering that the Creator put into not only keeping you from biting your tongue and cheeks when you chew, but also how even swallowing your food properly couldn't have evolved! Dr. Martin has had much experience in the mouth! He was formerly a dentist for the Presidential flight crews of Air Force One under President Johnson, had a private dental practice in Houston, TX, and was a professor at Baylor College of Dentistry. (Approximately 30 min)
Write a review
Your Name:
Your Review:
Note: HTML is not translated!
Rating:
Bad
Good
Enter the code in the box below: