Life's Story 1 DVD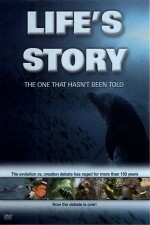 Product Code:
LIFE1DVD
Reward Points:
0
Availability:
In Stock
Price: $14.00

A totally unique set of wildlife programs illustrating, among many scientific facts, how symbiosis, navigation techniques, and the defense mechanisms of God's creatures all disprove evolution. Putting the traditional, evolutionary nature programs to the test, these two British-made DVDs are an apologetic for the complexity of God's special creation.
What does modern DNA research now prove about the theory that simple cells evolved into all life on earth? Simply that evolution is impossible. So why is this information being kept from the general public? Should Darwins theories still be taught as facts in our educational institutions? In a wildlife program unlike any other seen before, you will journey to discover the story of life itself. This program examines the long held beliefs that have been the foundation of the whole understanding of natural selection for more than 150 years. How much can animals change? Why do so many species depend upon one another to survive? Where does instinct and intelligence come from? And what do the designs of creatures alive today reveal about their history? Learn about the abilities of parrot fish and dolphins, the habits of ostriches and wildebeest, and the skills and instincts of cheetahs, giraffes and lions. Filmed and researched over a five-year period in more than ten different countries, Life's Story explores all these issues and many more in on the most visually stunning and informative wildlife productions available today. Running time 56 minutes Suggested age range 13 yrs - adult DVD EXTRA FEATURES: School Dictionary Campfire Safari notes

Write a review
Your Name:
Your Review:
Note: HTML is not translated!
Rating:
Bad
Good
Enter the code in the box below: