The Teenage Years of Jesus Christ Book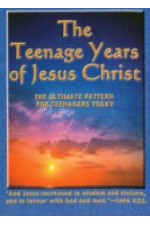 Product Code:
TYJC
Reward Points:
0
Availability:
In Stock
Price: $8.00

Have you ever wondered what Jesus did when He was a teen? The Teenage Years of Jesus answers that question through the one succinct Bible verse about Jesus' pre-ministry years. Jerry Ross then teaches youths how to apply it directly to their daily lives. Excellent for teens (especially young men), parents, youth leaders, and pastors. The best book we have found instructing young people on how to use their youth, this little book challenges readers with steps they can take to be more like Jesus.
The ultimate goal of the Christian life, is to be like Jesus. Wouldn't it be easier for teens to achieve Christ-likeness if they had some idea of what He was like as a teenager? All parents follow some pattern when rearing their children. What better master plan than the plan of the Master? This book presents a Scriptural examination of the teenage years of Jesus Christ. Practical steps are given to help young people grow in their walk with the Lord, and become more like Him. Parents and teens will be challenged and encouraged, by the practical teaching given.

Write a review
Your Name:
Your Review:
Note: HTML is not translated!
Rating:
Bad
Good
Enter the code in the box below: