Amazing Animals of Alaska Vol 1 DVD and Creation Cards Combo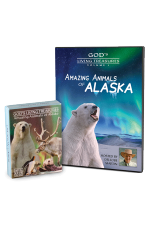 Product Code:
AK1DVDCC
Reward Points:
0
Availability:
In Stock
Price: $17.00

Come join Dr. Jobe Martin and his friends on an exciting expedition to Alaska where you will learn incredible facts about some of "God's Living Treasures." This first DVD in the new God's Living Treasures series features an appearance by Agee the polar bear, and other amazing creatures (moose, red fox, sea otter, wolf) plus a segment by David Rives on the stunning aurora borealis. Dr. Martin is joined by guest speakers Buddy Davis, Dr. Jim Johnson, and Micah Bowman as they all share how incredibly created each of God's living treasures is! (approx 60 min)
Special Features will include:
A Word from Dr. Jobe: Introduction, Testimony, and Challenge
Special Interview with Mark Dumas about Agee the Polar Bear
Buddy Davis and Dr. Jobe in Conversation
Also included Alaska Creation Cards:
Each pack of 50 creation cards has multiple copies of 12 different cards and are great to hand out in personal evangelism. There is an explanation of each unique animal on the back of the card as well as a link to a very complete salvation message at the bottom of each card.
Write a review
Your Name:
Your Review:
Note: HTML is not translated!
Rating:
Bad
Good
Enter the code in the box below: