Biblically Handling Marriage, Divorce, and Remarriage eBook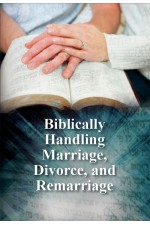 Product Code:
ebook_marriage
Reward Points:
0
Availability:
In Stock
Price: $3.95

There is much controversy in the church today regarding what the Bible teaches about marriage, divorce, and remarriage. What is a "Biblical marriage?" Are there legitimate Biblical reasons for divorce? What about remarriage after divorce?
The hope for this booklet is that it will encourage the reader (whether single, married, divorced, or remarried) with God's Word. The God of the Bible is Love! His ways are best. They include forgiveness and a multitude of tender mercies through Jesus Christ. Our loving Lord has a future for each of us no matter what the details of our past might be.
This is an eBook. When you purchase it, you will be able to login to the store and download the martin_marriage.zip file. Unzip it and it contains both the ePub and Mobi files for your eReader.
E-books are protected by the same copyright as books; their content is protected by law. Sending the files of e-books to family, friends, etc. is against the law, as is posting the e-book to your blog, Facebook, or other social networking page. You have permission to download each purchased e-book from this site three times so you can have it on your personal computer, e-reader, iPad, phone, etc. No part of these resources may be copied or stored in a retrieval system or transmitted in any form by any means: electronic, mechanical, recording or otherwise (except as permitted here), without written permission from Biblical Discipleship Ministries.
Write a review
Your Name:
Your Review:
Note: HTML is not translated!
Rating:
Bad
Good
Enter the code in the box below: