Creation Proclaims 1 DVD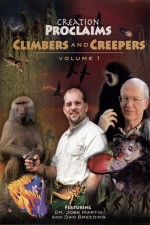 Product Code:
CPDVD1
Reward Points:
0
Availability:
In Stock
Price: $14.00

Join Dr. Jobe Martin and Dan "The Animal Man" Breeding on a wild animal adventure. You'll come face-to-face with some of the world's most fascinating creatures—they are ferocious, mysterious, at times hilarious, and always miraculous creations of God.
* Gibbons – The World's Greatest Acrobat
* Baboon – The World's Largest Monkey
* Aye-Aye – Madagascar's Midnight Hunters
* Hissing Cockroaches – Giants of the Insect World
* Nudibranch – God's Rainbow of the Sea
* New Zealand's Wonder Weta

Teachers Love It! It's easy… flexible… and fun. Choose a chapter and study one creature at a time… or "Play All" to watch the entire video from start to finish. Students will learn, laugh and be amazed as they discover how Creation Proclaims the Creator. An excellent video for: Schools – Science, Biblical World View, Apologetics and Creation Classes Churches – Sunday School, Bible Studies, VBS, Sermon Illustrations Homes – Families, Friends, Personal Study Coming Soon:

Write a review
Your Name:
Your Review:
Note: HTML is not translated!
Rating:
Bad
Good
Enter the code in the box below: