Incredible Creatures that Defy Evolution 3 DVD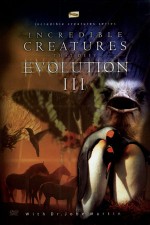 Product Code:
ICDVD3
Reward Points:
0
Availability:
In Stock
Price: $14.00

This program answers the following questions:
- What kind of bird can kill a lion with a single kick?
- How can some dogs know that a storm is coming before it appears, or can sense when their masters are about to experience a seizure?
- Which creature perlexes scientists because of its amazing ability to heal itself, even when it sustains horrendous injuries?
- How do Emperor Penguins go two and a half months without eating or drinking?

This program examines: * Lampsylis Mussel * Horses * Ostrichs * Hummingbirds * Vestigial Organs * Dogs * Manatees * Elephants * Butterflies * A section on designs and designers * Cuttle Fish * Penguins * Milopina Bee and vanilla

Write a review
Your Name:
Your Review:
Note: HTML is not translated!
Rating:
Bad
Good
Enter the code in the box below: