Amazing Animals of Alaska Vol 3 DVD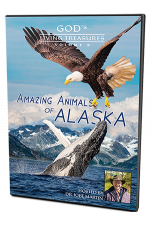 Product Code:
AlaskaDVD3
Reward Points:
0
Availability:
In Stock
Price: $10.00

Come and join Dr. Jobe Martin and his friends, Buddy Davis, Dr. Jim Johnson, Micah Bowman, and David Rives with a special guest appearance by Dr. David Shormann in the third and final DVD in the Amazing Animals of Alaska trilogy. What are God's living treasures? They are God's creatures which add joy and delight to our lives, are valued for their beauty and design, and enhance our world. Be inspired as you learn about the complexities of arctic birds' systems to fly long distances and swim deep under water, cats with their own hearing aids and snowshoes, massive sea creatures that use "bubble nets" to catch their food, sea turtles that can dive up to 4,000 ft deep in the ocean, and the majestic bird that uses 1,500 feathers in flight and can dive at 100 mph. Enjoy learning about more amazing animals of Alaska as you become better equipped to share the wonders of God's creation with others." The body of the DVD is approximately 1 hour long, not including the length of several special features.
NOTE: This product is not shipping until May. Our shopping cart is unable to store credit cards, so your card will be charged when you pre-order, but the product will not ship until we have stock.
Write a review
Your Name:
Your Review:
Note: HTML is not translated!
Rating:
Bad
Good
Enter the code in the box below: